ERDO (ईआरडीओ) DEC Syllabus 2018- Candidates are expected to note that the Education Research and Development Organization of Bihar DEC Recruitment exam Syllabus is given below. You will find attached the detailed ERDO District Education Controller Syllabus and exam Pattern down below.
The major subjects of the ERDO Syllabus or the ईआरडीओ डीईसी पाठ्यक्रम 2018 are given below in great detail. Furthermore, we have also given the detailed syllabus topics under each of the given topics. So, we would urge you to carefully curate a timetable which will enable you to prepare for this huge vacancy on your own.
The BEC and DEC Portion for the ERDO Recruitment will be the same. So we have given the portion of them together. Whereas, the BTT Study Material and exam pattern differ slightly from the other 2 posts. So, make sure to check out whichever post you would be looking to apply for.
The main prerequisites of preparing for the ERDO Exam are the ERDO DEC Admit Card and the ERDO BTT, DEC Syllabus 2018. Fortunately, we at GovtJobIndia.com have given both.
ERDO BTT, BEC & DEC 2018 Basic Tuition Teacher Vacancy Details

Name of Exam
Basic Tuition Teacher BTT, District Education Controller (DEC) & Block Education Controller (BEC)
Board of Organization
Education Research and Development Organization ERDO
No of Vacancy
13634 Posts
Date of Exam
Update Soon
Official Website
www.erdo.in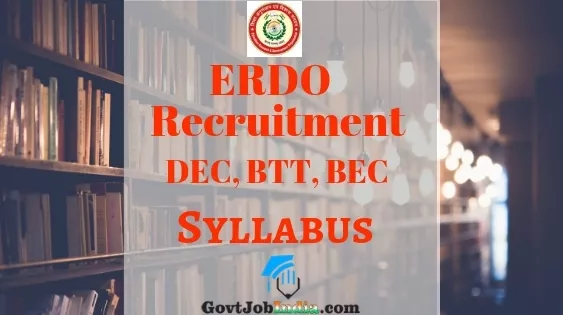 So, before you proceed to the ERDO DEC recruitment syllabus 2018, we have given the ERDO BTT DEC Selection procedure.
ERDO BTT, DEC & BEC 2018 @ www.erdo.in Selection Process

Written Examination
Personal Interview
Document verification
Download ERDO DEC Syllabus and Exam Paper pattern pdf
Are you wondering how to download the ERDO Syllabus onto your laptop or mobile and prepare even when you are offline? We have made a PDF for aspirants who wish to prepare in depth about the ERDO DEC Exam.
How to download ERDO BTT, BEC DEC Syllabus and Exam Pattern 2018 in PDF Format?
Click on the link given below and download the complete ERDO DEC syllabus pdf with exam pattern by going to the link.
Save the name according to your preference.
Next up save it to your preferred drive and start preparing for it now!
Download ERDO DEC / BEC / BTT Syllabus PDF 2018-

Click here
Therefore, in 3 easy steps, you would have downloaded the ERDO DEC Syllabus.
बिहार ईआरडीओ ब्लॉक शिक्षा नियंत्रक पाठ्यक्रम 2018
You will be able to download the official ERDO DEC syllabus and exam pattern pdf in the link given below and you can save it onto your personal computer and read it whenever you wish like studying. The Test Paper Pattern for the ERDO DEC, BTT exam 2018 is given down below. Candidates can, without any hesitation, refer to this and master the subjects and ace the exam.
Part I- ERDO DEC, BTT, BEC Written Exam
ERDO BTT Exam Pattern 2018
S. No
Subjects
No of Questions
1
Child Development and Pedagogy
10
2
Language-I English
15
3
Language-II Hindi
15
4
Reasoning
10
5
Mathematics & Science
Social Studies & Other Subjects
50
Total
100
Questions: Objective Type Multiple Choice Questions.
Marks: Each Question carriesone
Negative Marks will be there.
Maths & Science Questions is only for Science Category.
Social & Other is only for Art Category.
बिहार ईआरडीओ पाठ्यक्रम
Bihar ERDO BTT Syllabus and Paper Pattern
Syllabus For ERDO BTT – Child Development and Pedagogy
Child development concept
Learning and pedagogy
Concept of Inclusive Education, Understanding children with special needs
ईआरडीओ ब्लॉक शिक्षा नियंत्रक पाठ्यक्रम 2018– General Hindi/ English
Sentence construction.
Vocabulary.
Shuffling of sentence elements.
Antonyms.
Grammar.
Synonyms.
Error Correction.
Idioms & Phrases.
Unseen Passages.
Fill within the Blanks.
Sentence Rearrangement.
Comprehension.
One phrase substitutions.
ERDO DEC Exam Syllabus 2018 – Reasoning
Number Ranking.
Statements & Conclusions.
Mirror Images.
Decision Making.
Directions.
Analogy.
Cubes and Dice.
Coding-Decoding.
Syllogism.
Number Series.
Embedded Figures.
Non-Verbal Series.
Statements & Arguments.
Clocks & Calendars.
Blood Relations.
Data Interpretation.
Alphabet Series.
ERDO BEC Syllabus 2018 – Mathematics
Unitary Method
Number System
Time and Distance
Algebra
Percentage
Time and Work
Simplification
Decimal Fractions
HCF, LCM
Ratio and Proportions
Mensuration (2D and 3D)
Profit and Loss
Average
Simple and Compound Interest
Education research & development Organization BEO Syllabus – General Studies
Social- economic and political history of modern India with emphases on Indian national movement.
Geography of India.
Data analysis: tabulation of data, basic data analysis, and interpretation.
Indian Polity and governance: constitutional issues, public policy, reforms and e-governance initiatives.
Disaster Management: vulnerability profile, prevention and mitigation strategies, Application of remote sensing and GIS in the assessment of disaster.
Economic development in India since independence.
Logical reasoning, analytical ability, and data interpretation.
Current affairs – international, national and regional.
Economics, Social, Cultural, political and legal implications/problems etc.
Sustainable development and Environmental protection.
General science and its applications to the day to day life contemporary developments in Science & Technology and Information Technology.
Events of national and international importance.
ERDO DEC Exam Pattern 2018
S. No
Subjects
No of Questions
1
Child Development and Pedagogy
10
2
Language-I English
15
3
Language-II Hindi
15
4
Mathematics
15
5
Science
15
6
General Studies
10
7
Reasoning
10
8
Other Subjects
10
Total
100
Question Type: Multiple Choice Questions-Objective Type.
Marks: Each Question will carry 1 mark.
---
Part II- ERDO DEC, BTT, BEC Personal Interview
Personal Interview
The ERDO Personal Interview which will be held sometime in the year 2019 has a set list of questions and topics which you need to prepare from. But the list hasn't been updated yet. So, we at GovtJobIndia.com will give out the personal interview questions soon.
The details of the questions asked in the personal interview are not yet disclosed. The topics which will be asked for the personal interview will soon be updated on our page. Bookmark this page for knowing what will come in the ERDO DEC BTT Personal Interview 2018-19.

Part III- ERDO DEC, BTT, BEC Document Verification
Documents Required for ERDO Documents Verification
The various certificates which you would require to bring to the document verification centre are listed down below. This is only if you get selected for the first stage of the ERDO DEC Recruitment Exam.
Furthermore, you will also have to clear the personal interview which will be held sometime in the next year. After doing all this, you will finally be allowed for the
Certificates and Mark sheets of qualifying examinations.
Aadhar card.
Proof of Educational Qualifications.
Date of Birth Certificate / S.S.C
School Study Certificate
Declaration by the Unemployed (For claiming examination fee exemption)
No Objection Certificate from Employer (if anywhere employed)
Important Links
Hope you liked this article about ERDO DEC, BTT, BEC Syllabus 2018. If you did, make sure to share it with all your friends who might be appearing for this examination. You will find that this article will greatly benefit everyone you send it to.
Also, ERDO DEC Subject Wise Syllabus & Exam Pattern should be prepared thoroughly for passing the ERDO Recruitment Exam 2018.
Furthermore, if you are interested in knowing more about the latest govt job notifications, make sure to subscribe to our website for regular email updates.