ONGC Assistant Technician Syllabus 2019 PDF Download– All the applicants who have filled in their candidature for the ONGC Recruitment 2019 are informed that the ONGC Syllabus and Exam Pattern is given on our page.
As there are various posts in the recruitment, candidates can find the ONGC Recruitment syllabus attached according to the various openings available in the recruitment. But mainly given below is the ONGC A1 and A2 Syllabus.
This has been given according to the ONGC Assistant Technician Syllabus and there are specific subjects which you will need to prepare which will be according to your specification.
For example, if you are preparing for the CBT of the Technical Assistant (Chemistry) post, you will have to prepare for the ONGC exam syllabus for chemistry.
Furthermore, we have given the ONGC 2019 Syllabus PDF which will enable you to download the file first and then utilize it even you are offline. So, make sure that you stick around till the end of the article.
This article is like a reference page which you can rely upon whenever you need to access the ONGC AT Syllabus and Exam pattern 2019. Basically, this page is like the ONGC Assistant Technician Exam Book which you can also use as a guide.
As the ONGC Recruitment was a splendid chance for securing a govt job in such a prestigious organization, you are advised to start preparing for this recruitment as soon as possible. If you haven't yet applied, you can do that by going to direct link to apply online which is the ONGC Non-Executive Recruitment Notification 2019.
So, now that you have gathered the basic summary of this page, let us move onto the regular content which you came for. We will start off with the Oil and Natural Gas Corporation (Gujarat) Recruitment details first.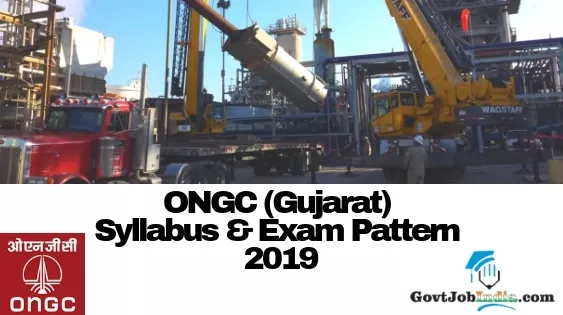 Oil and Natural Gas Corporation Gujarat Recruitment 2019

Advt No: 01/2019 (R&P)

Name of the Recruitment Board
Oil and Natural Gas Corporation (ONGC)
Post Name
Technical Assistant GD.III(Chemistry), Assistant Technician (Civil), Assistant Technician (Electrical), Assistant Technician (Electronics), Assistant Technician (Instrumentation), Assistant Technician (Mechanical), Assistant Rigman (Drilling), Assistant Technician (Production),Assistant Technician (Boiler), Assistant GD.III (Transport) and Other Posts
Number of Vacancies
737 vacancies
Job Category
Syllabus
ONGC Gujarat 2019 Apply Online Last Date
20th February 2019
Mode of Application
Online mode
Exam Date
March 2019
Job Location
Gujarat
Official Website
www.ongcindia.com
Selection Procedure

Posts

Criteria

AT (Mechanical)/ AT
(Electrical)/ JAT(Fitting)/
JAT(Diesel)/JAT(Electrical)/JAT(Production)
Written Test – 85 Marks
Academic Performance – 10 Marks
Apprenticeship Certificate – 05 Marks
Total Marks – 100
Junior Technical Assistant
(Chemistry)
Written Test – 85 Marks
Academic Performance – 15 Marks
Total Marks – 100
ONGC A1 A2 Exam Pattern of the Assistant Technician Posts 2019
Go through this page in order to secure good marks in the CBT (Computer Based Test) and get selected for the examination. We urge the candidates to check and prepare accordingly for the ONGC Recruitment Exam 2019. We have mentioned the duration, total marks, number of questions and medium that the question paper will be in.
The general trend of the examination pattern is given below.
Part

Subjects

No. of Questions

A

General Mental Ability and Aptitude
Interpersonal Skills
Logical Reasoning/Analytical/Comprehension Ability.
Basic Numeracy and Data Interpretation Sills.
General Awareness

20
B
Subject/ Domain Related
Questions will be commensurate with the level of qualification required for the post.
80
Total
100 Marks
Online Computer Based Test
Maximum Marks – 100 Marks
1 Mark per question.
No negative marking.
Bilingual i.e. Hindi & English.
ONGC Assistant Technician Syllabus 2019
Syllabus for ONGC Assistant Technician 2019 for General Awareness
• Important Days.
• Abbreviations.
• Awards and Honors.
• Major Financial/Economic News.
• Science – Inventions and Discoveries.
• Books and Authors.
• Budget and Five Year Plans.
• Sports.
• Current Affairs (National and International).
• International and National Organizations.
ONGC Asst Technician Syllabus 2019 for Reasoning
• Analytical Reasoning.
• Analogies.
• Symbols and Notations.
• Syllogisms.
• Alphabet Series.
• Directions.
• Nonverbal Reasoning.
• Coding-Decoding.
• Classification.
• Similarities and Differences.
• Number Series.
• Data Sufficiency.
• Arrangements.
• Blood Relationships.
• Statements.
• Visual Ability etc.
ONGC Assistant Technician Syllabus 2019 for Aptitude
• Number Systems.
• Simple Interest.
• Ratio & Proportion.
• Fundamental Arithmetical Operations.
• Relationship Between Numbers.
• Average.
• Partnership.
• Use of Tables and Graphs.
• Time & Distance.
• Percentages.
• Mensuration.
• Profit & Loss.
• Time & Work.
• Computation of Whole Numbers.
• Discount.
• Decimals and Fractions.
⇒

Download ONGC Assistant Technician Syllabus PDF–

Click Here

Important Links:
About Oil and Natural Gas Corporation (ONGC)
Oil and Natural Gas Corporation Limited (ONGC) is a state-owned oil and gas company governed by the Indian Ministry of Petroleum and Natural Gas. Producing more than 75% of the nation's crude oil and nearly 60% of its natural gas, ONGC has the distinction of being the largest oil and gas exploration and production company in India.
ONGC Videsh Limited (OVL), its overseas arm, is the biggest Indian multinational in the energy space, with stakes in 36 oil and gas properties in 17 countries. Another ONGC subsidiary, Mangalore Refinery and Petrochemicals Limited (MRPL) boasts of 15 million tons per annum single-location refining capacity.
ONGC, with its huge pool of more than 33,000 employees, regularly comes out with notifications to fill in posts, including trade apprenticeship, field medical officer, legal advisor, junior/assistant technician, and technical assistant.
---
We hope that the article about the ONGC Gujarat Recruitment Syllabus 2019 has been useful to all of you looking for the ONGC Assistant technician Exam Pattern.
We wish you all the best for your recruitment selection process for the ONGC Gujarat Vacancy 2019, and we hope that you would qualify for all the stages of the recruitment process.
Please subscribe to our website @GovtJobIndia.comfor regular updates regarding government recruitment spanning across the nation.