TNPSC Recruitment 2019: All the aspiring Government job seekers in Tamil Nadu are presented with good news as the Tamil Nadu Public Service Commission has released the TNPSC Recruitment 2019. This recruitment drive is an attempt to recruit over 800 capable candidates into a number of vacancies in the TN Government. These posts include Assistant System Engineer, Assistant System Analyst, CCS-I Examination (Group-I Services), District Judge, and Assistant Agricultural Officer.
All the details regarding the TNPSC Application Dates, Salary Scale, Eligibility Criteria etc have been provided on this page. make sure that you go through the page before you online for TNPSC Recruitment 2019. We would also like to remind you that you make sure that you are eligible for the post you are applying for.
This is a stellar opportunity for all the candidates who are seeking a govt job in Tamil Nadu. With a wide array of posts available, candidates are almost spoilt for choice in the TNPSC Recruitment 2019. All the details regarding the individual posts can be found below. You will also find that there are links for all the TNPSC Vacancy 2019 have been provided here.
So if you are interested in the TNPSC Recruitment 2019 then make sure that you apply online for this opportunity before the last date. Hurry up as waiting for the last dates is highly unadvised. Keep on reading for more information regarding your eligibility.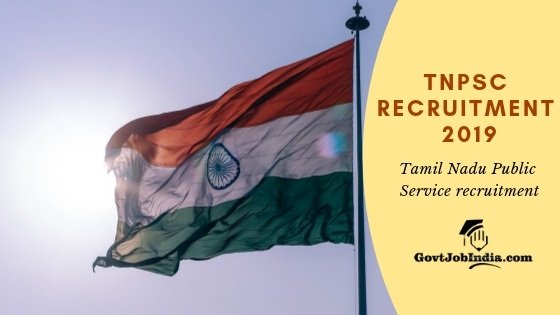 தமிழ்நாடு பொது சேவை கமிஷன் ஆட்சேர்ப்பு
TNPSC Assistant Agriculture Officer Recruitment 2019

Post Name
Assistant Agriculture Officer
No. of vacancies
580
TNPSC Assistant Agriculture Officer Salary
Rs.20600 – 65500/- Level 10
Educational Qualification
12th pass with a 2-year diploma in Agriculture from a recognized University Government of Tamil Nadu or affiliated with the Tamil Nadu Agricultural University, Gandhigram Rural Institute, Dindigul District or any other institutions under the control of the Commissioner of Agriculture.
Age Limit
18 years to 30 years
Application Fees

General Candidates – Exam Fee + Registration Fee = Rs.250
All Other Candidates – Only Exam Fee = Rs.100

Last date for Application
27th January 2019
Official Notification PDF
CLICK HERE
Apply Online
CLICK HERE
TNPSC Assistant System Engineer & Assistant System Analyst Recruitment 2019

Post Name
Assistant System Engineer & Assistant System Analyst
No. of vacancies
60
TNPSC Assistant Agriculture Officer Salary
Rs.37700 – 119500/- (Level 20)
Educational Qualification
B.E. or B. Tech. Degree in Computer Science and Engineering / Computer Engineering / IT / Electronics and Communication Engineering / Electrical and Electronics Engineering

OR

PG degree in Computer Applications (MCA) / Computer Science / IT.

Age Limit

MBCs / DCs, BC(OBCM)s, BCMs  and Destitute Widows – 21 – 32 years
SCs, SC(A)s, STs – 21 – 35 years
All other candidates – 21 – 30 years

Application Fees

General Candidates – Exam Fee + Registration Fee = Rs.350
All Other Candidates – Only Exam Fee = Rs.150

Last date for Application
20th February 2019
Official Notification PDF
CLICK HERE
Apply Online
CLICK HERE
TNPSC District Judge Recruitment 2019

Post Name
District Judge
No. of vacancies
31
TNPSC Assistant Agriculture Officer Salary
Rs.51,550 – 63,070/-
Educational Qualification

Degree in Law from an Indian University
At least 7 years of Experience as a Lawyer.

Age Limit

MBCs / DCs, BCs, BCMs,SCs, SC(A)s, STs – 35-48 years
All other candidates – 35-45 years

Application Fees

General Candidates – Rs.2000
All Other Candidates – No fee

Last date for Application
4th February 2019
Official Notification PDF
CLICK HERE
Apply Online
CLICK HERE
TNPSC CCS-I Examination (Group-I Services) Recruitment 2019

Post Name
CCS-I Examination (Group-I Services)
No. of vacancies
139
TNPSC Assistant Agriculture Officer Salary
Rs.56100 – 177500/- Level 22
Educational Qualification

Must be Graduate in any stream

Age Limit

MBCs / DCs, BC(OBCM)s, BCMs, SCs, SC(A)s, STs  and Destitute Widows – 21 – 37 years
All other candidates – 21 – 32 years

Application Fees

General Candidates – Exam Fee + Registration Fee = Rs.250
All Other Candidates – Only Exam Fee = Rs.150

Last date for Application
31st January 2019
Official Notification PDF
CLICK HERE
Apply Online
CLICK HERE
TNPSC Hostel Superintendent-cum-Physical Training Recruitment 2019

Post Name
Hostel Superintendent-cum-Physical Training
No. of vacancies
6
TNPSC Assistant Agriculture Officer Salary
Rs.35,400 – 1,12,400/- Level 11
Educational Qualification

Diploma in Physical Education
Teacher's Certificate in Physical Education (Higher Grade)

Age Limit

MBCs / DCs, BC(OBCM)s, BCMs, SCs, SC(A)s, STs  and Destitute Widows – No Age Limit
All other candidates – 35 years

Application Fees

General Candidates – Exam Fee + Registration Fee = Rs.250
All Other Candidates – Only Exam Fee = Rs.150

Last date for Application
30th January 2019
Official Notification PDF
CLICK HERE
Apply Online
CLICK HERE
TNPSC Hostel Superintendent-cum-Physical Training Recruitment 2019

Post Name
Hostel Superintendent-cum-Physical Training
No. of vacancies
6
TNPSC Assistant Agriculture Officer Salary
Rs.35,400 – 1,12,400/- Level 11
Educational Qualification

Diploma in Physical Education
Teacher's Certificate in Physical Education (Higher Grade)

Age Limit

MBCs / DCs, BC(OBCM)s, BCMs, SCs, SC(A)s, STs  and Destitute Widows – No Age Limit
All other candidates – 35 years

Application Fees

General Candidates – Exam Fee + Registration Fee = Rs.250
All Other Candidates – Only Exam Fee = Rs.150

Last date for Application
30th January 2019
Official Notification PDF
CLICK HERE
Apply Online
CLICK HERE
We hope all the information provided above has been helpful for your TNPSC Recruitment 2019 Online Application. Make sure that you pay attention to the individual application last date of all the recruitments enlisted above. If you have any doubts you can address them in the comment section below. We're always here to provide you with assistance. All the best