IOCL Trade Apprentice Result 2019:Applicants can check or download the IOCL Trade Apprentice Result 2019 after the test is completed. We hope you all have completed the written test successfully by now. Stay connected to this page as well as the official IOCL website @ iocl.com for more updates.
The article below will help applicants know important information about the IOCL Trade Apprentice Accountant Result 2019. We will keep adding the details as soon as they are declared by the recruitment board. Equal performance in both the selection stages is important for the final selection.
IOCL Western Region Final List will be prepared on the basis of written exam and personal interview combined marks. 85% weightage for the written exam and 15% for the personal interview is set by the Indian Oil Corporation Limited. In case there are any changes or modifications with these procedures, applicants will be duly informed. These notifications will be available on the official IOCL page @ iocl.com
Bookmark the page without fail and let us know if you have any questions regarding IOCL Result in the comment section at the end of the article. Check our important links section where you can find other articles related to IOCL Western Region opportunities this year.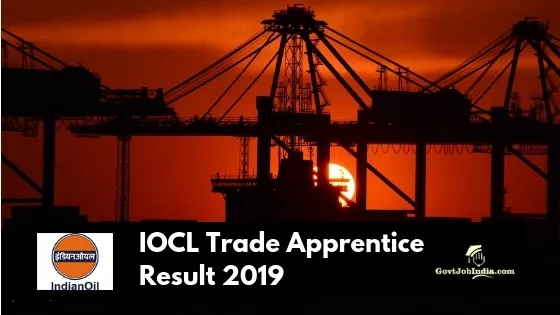 IOCL Western Region Recruitment 2019

Recruitment Board
Indian Oil Corporation Limited
Job Details
392 Vacancies
Job Category
Apprentice
Application Start date
23rd February 2019
Application Last Date
7th March 2019
Application Mode
Online
Official Website
www.iocl.com / rectt.in
IOCL Trade Apprentice Examination Details – Western Region Written Test & Selection Procedure
There are 2 stages of selection method set by the Indian Oil Corporation Limited. These stages include a written examination and a personal interview. Further, the weightage decided by recruitment board varies for both. It is 85% for the written test and 15% for the personal interview. Please check the official recruitment advertisement for more details based on written examination of 392 vacancies.
Written Test will be conducted across various location of western region for 90 minutes of duration. Ensure that you are aware of the dates and exams particularly. Carry your admit card and a valid ID proof to avoid any obstacle at the exam center. Any candidate without the same will not be allowed for the test under any circumstances.
IOCL Trade Apprentice Result Available @ iocl.com – Check IOCL Final Merit List & Cut Off Here
As of now we have not received details or exact date regarding IOCL Trade Apprentice Result 2019. Please keep checking this page and the official website @ iocl.com for updates. You can now check your result once it is out. Steps to download the IOCL Western Region Result 2019 are provided below.
Go through each one of them carefully. Click on the direct link provided. It will take you directly to the page for official advertisements and notifications. Notification for merit list and result will be applicable on the same page. Also, there would be other updates based on any changes or modifications made.
How to Check IOCL Trade Apprentice Result 2019 Online?
The official website @ iocl.com will release IOCL Result on its career page.
To get hold of the career page follow the steps below.
Scroll down the IOCL home page @ iocl.com and click on the career option provided in the "Indian Oil for Careers" section.
There are 2 options on the right side of career page.
One is latest job openings and other is based on apprenticeships.
Applicants are requested to check both the pages for the result/merit list based information.
Download IOCL Trade Apprentice Western Region Result – CLICK HERE

Important Links
We believe candidates are able to check vital information regarding IOCL Result 2019. Let us know your doubts in the comment section below. Our team will get back to you right here. Also, share this article with similar candidates. It would be helpful for them to know the details and highlight important points too. Bookmark the page without fail.
For more opportunities with the Government of India check our website @ govtjobindia.com. Applicants can see too many options based on academic qualifications, locations, and sectors too. You can also subscribe to receive daily updates right in your inbox. All the best!