Telangana TREIRB TGT/PGT Junior Lecturer Syllabus 2018:If you are looking for the perfect place to find the TREIRB lecture recruitment detailed syllabus pdf, then you have stumbled across the right page for Telangana REIRB job.
Telangana Residential Educational Institutions Recruitment Board has recently released a huge vacancy for the recruitment of lecturers. If you want to get selected for this high paying job in Telangana, make sure to start preparing for the Latest Exam Syllabus 2018.
This detailed TREIRB recruitment syllabus can help you clear the recruitment exam easily.
The Telangana teaching Jobs 2018 had been quite an opportunity for the people because a teaching govt job in Telangana with such a huge number of vacancies hasn't been out in a while. Therefore, these latest teaching jobs in Telangana found a huge audience and people from the large state have been applying for it relentlessly.
The syllabus for any exam is the most important part of the exam preparation. So, without fail, make sure to check the TREIRB Study Material with precision.
TREIRB TGT/PGT Recruitment Notification 2018 @treirb.telangana.gov.in
This large number of vacancies for the TREIRB recruitment 2018 has proved to be an amazing opportunity for the people of Telangana who are interested in the teaching line. So, make sure to apply now if you have not applied online yet. If you want to check out the key details of the recruitment notification, then go to the detailed article linked below.
Age as on 01/07/2018 Min. Max. – 18-44*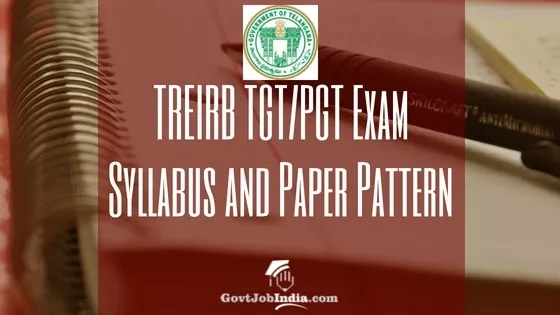 Sr.No.
Name of
the Post
Name of the Society
No. of
Vacancies
Scale of
Pay
Rs.
1.
Junior
Lecturer
Mahatma Jyotiba Phule Telangana
Backward Classes Welfare
Residential Educational Institutions
Society.
Nil
35,120-
87,130
2.
Junior
Lecturer
Telangana Tribal Welfare
Residential Educational Institutions
Society
40
37,100-
91,450
3.
Junior
Lecturer
Telangana Residential Educational
Institutions Society.
3
35,120-
87,130
4.
Junior
Lecturer
Telangana Social Welfare
Residential Educational Institutions
Society.
149
35,120-
87,130
5.
Junior
Lecturer
Telangana Minorities Residential
Educational Institutions Society.
89
35,120-
87,130
TOTAL
281 Vacancies
Telangana TREIRB Post Graduate Teacher Syllabus 2018 & PGT TGT Exam Pattern Pdf
Sr. No
Type of Questions
Papers
Topic Names
Questions
Max Marks
Test Period
1
Objective Questions
Paper I
General Studies, General Abilities
and Basic Proficiency in English
100
100
120 Min
2
Paper II
Pedagogy of concerned subject
100
100
120 Min
3
Paper III
Subject Discipline Knowledge/
Concerned Subject
100
100
120 Min
Total
300 Questions
300 Marks
The written test will consist of 3 papers.
TREIRB Written exam has ONLY objective questions.
There will be a total number of 300 questions in the CBT exam.
One question will carry one mark.
The total time of the examination is 6 hours.

Telangana TREIRB TGT PGT Lecturer Syllabus 2018 PDF Download
You will be getting the TREIRB TGT syllabus from this page along with the complete TREIRB exam pattern 2018. You can download the official pdf of the syllabus from the given official portal or from our own site.
TREIRB Exam Syllabus 2018 – General Studies
Current Affairs – Regional, National & International.
Economic Social Development of India and Telangana.
Indian Constitution: Indian Political System; Governance and Public Policy.
General Science: India's Achievements in Science and Technology
Social Exclusion: Rights issues such as Gender, Caste, Tribe, Disability etc. and inclusive policies.
Society Culture, Civilization Heritage, Arts, and Literature of India and Telangana
Environmental Issues: Disaster Management – Prevention and Mitigation Strategies and Sustainable Development.
Political and Cultural History of Telangana with particular emphasis on Telangana Statehood Movement and formation of Telangana state
Syllabus of TREIRB – General Abilities
Moral Values and Professional Ethics in Education.
Analytical Abilities: Logical Reasoning and Data Interpretation.
Teaching Aptitude
treirb.telangana.gov.in TGT Syllabus 2018 – Basic Proficiency in English
School Level English Grammar
Subject-Verb Agreement
Noun & Pronouns
Prepositions
Degrees of Comparison
Reported speech
Vocabulary
Synonyms and Antonyms
Phrasal Verbs
Related Pair of Words
Idioms and Phrases
Proverbs
Words and Sentences
Fillers and Improvement
Transformation of Sentences
Comprehension
Punctuation
Spelling Test
Pedagogy of English Language Syllabus TREI RB Written Exam
Importance of languages across School Curriculum
Aims and Objectives of Teaching Languages
Child Development; Thinking and Creativity, Psychology of Teaching and Learning Languages; Language,
Language Curriculum
Measurement and Evaluation in Languages
Language Skills
Approaches, Methods, and Techniques of Teaching Languages with special reference to School Content
Teaching and Learning Resources and Designing Instructional Material for Languages
Language and Everyday Life
Telangana TREI-RB Teacher exam Syllabus 2018 – English Language & Literature
Reading Comprehension of unseen passage.
Grammar and Vocabulary
Aspects of pronunciation
Literature
Comprehension of Literary prose passage and poem
Study of Literary forms
Poetry
TREIRB TGT PGT Syllabus 2018 – Mathematics
Number System-I
Number System-II
Percentages in daily life situations and SETS
Fundamentals of Algebra
Geometry
Co-ordinate Geometry
Concept of locus; Straight-line – different forms of straight line and conversions
Mensuration
Statistics and Probability
Trigonometry
TGT PGT TREIRB Teacher Syllabus 2018 – Physical Sciences
Measurements, Units and Dimensions
Natural Resources – Air and Water
Our Universe
Natural Phenomenon
Mechanics
Magnetism
Electricity & Electro-Magnetism
Modern Physics
Electronics and Communications
Matter
Chemical Reactions
Acids and Bases, Salts
Atomic Structure
Periodic Classification of Elements
Chemical Bonding
Carbon and its Compounds
Environmental Chemistry and Metallurgy
TREIRB Telangana 2018 Teacher Syllabus 2018 – Biological Sciences
Biological Sciences
Living World
Cell & Tissues
Plant World
Animal World
Sense Organs
Our Environment
Heredity and Genetics
Evolution
Applied Biology
Social Studies – TREI-RB Recruitment 2018 Syllabus
Diversity of the Earth
Economic features of India and Telangana
Empires and World wars
Service and welfare program in India and Telangana
The Indian constitution – Democracy and Secularism
TREIRB TGT PGT Preparation Tips 2018
TREI-RB TGT Preparation Tipsare available here. Candidates who are going to start test preparation should see TREI-RB Post Graduate Teacher Preparation tips.
Split imperative subjects and relaxed concepts from the whole syllabus
Then, Give priority to the key subjects.
After this, formulate an operative schedule.
Keep following the program for better preparation.
Revise the concepts thoroughly.
And in the end, just remember that you need to be calm and collected for this exam rather than getting tensed about it.
⇒

TREIRB Teacher Syllabus

2018 PDF Download

–

Click Here
Hope you found this article about TREIRB Recruitment syllabus compact and easy to comprehend. If you have any doubts related to this article or any other article, make sure to leave it in the comments below and we will get back to you as soon as possible.
Important Links
We, at govtjobindia.com are looking to meet all your job-related agendas. Ardent job seekers can find new articles on our site every day with constant updating. Until next time, stick around for another crisp article.