FCI Assistant Grade 3 Syllabus:All the candidates applied for the recruitment can begin preparing for the phase tests with the help of FCI AG 3 Syllabus and Exam Pattern. Please go through all the details mentioned below carefully. They are taken from the official Food Corporation of India Pdf.
Written examination and document verification are the major 2 stages every candidate will have to pass. Written examination includes 2 phases. Phase 1 will be an MCQ test which is common for all posts. Whereas, phase 2 is a written examination. The phase 2 test varies based on posts as Assistant Grade 3 is further bifurcated in to 4 posts/departments.
Food Corporation of India Syllabus and Exam Pattern 2019 for various AG 3 vacancies is declared by the authority already. Applicants can find all the related details in the article below. As mentioned above the details would vary for Accounts/General/Technical/Depot department/posts. Check the suitable syllabus and exam pattern while reviewing the same.
We understand it would be a little complicated due to certain variations. Hence, aspirants can enter all their questions and doubts in the comment section below. Our team will clear the doubts on the same space provided below the questions.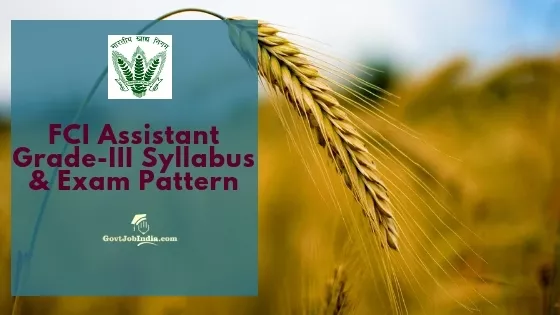 FCI Assistant Grade III Recruitment 2019

Recruitment Board
Food Corporation of India
Total Vacancies
3757 Seats
Location/State
All India
Application Start Date
28th February 2019
Application Last Date
30th March 2019
Examination Date
April/May 2019
Application Mode
Online
Official Website
fci.gov.in
FCI Assistant Grade 3 Examination Details – Phase 1 and Phase 2 Exams for
The online test comprises Phase 1 and Phase 2 examinations for all the 4 FCI Assistant Grade III vacancies. Irrespective of any post the phase 1 test is a common objective type online examination. The examination includes 100 marks for 100 questions ( 1 mark for 1 question). Applicants would need to be careful here as there is negative marking criteria.
But if a question is left unanswered there would not be any mark/negative mark given. 1/4th of a mark will be deducted for every wrong answer. Phase 2 test further includes 5 papers. Applicants will have to be very careful here and check only the information that matches the particular post.
FCI AG 3 Selection Procedure for Accounts/General/Technical/Depot Posts
The selection process for 3757 AG 3 vacancies include a written test and a round for document verification. Written examination details are provided above for the candidates to go through. Note that they all vary based on post and type of online test.
But irrespective of anything applicants will have to appear for the phase 1 test as it is common for all. Kindly go through the advertisement Pdf to know more about the topics included in the Phase 1 test and more about the selection method.
Food Corporation of India Syllabus & Exam Pattern 2019 – Assistant Grade III Online Examination Paper Pattern Details Mentioned Below
FCI Assistant Grade 3 Exam Pattern and FCI Assistant Grade 3 Syllabus can both be found right here. Candidates are requested to not get confused between phase 1 and phase 2 tests. Also ensure that the particular post is referred while checking phase 2 test details.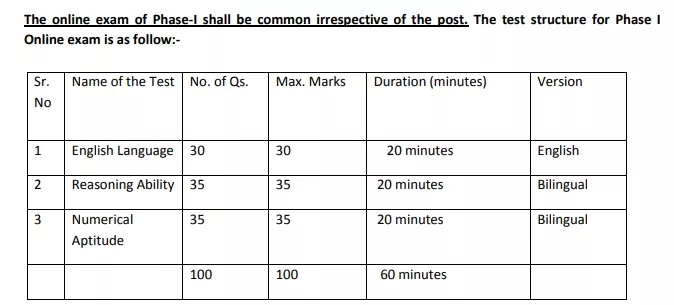 Above image regarding FCI Assistant Grade Phase 1 Exam Pattern is taken from the recruitment Pdf. FCI Phase 2 Question Paper Pattern for AG 3 posts is mentioned in the advertisement Pdf. There are various post codes for accounts/general/depot/technical department. Please check the exam pattern based on the post code/name accordingly.
FCI Exam Syllabus 2019 – Assistant Grade 3 Accounts/General/Depot/Technical Important Exam Topics
FCI Assistant Grade 3 Phase 1 Syllabus includes 3 subjects. Candidates can find the topics included in these 3 subjects below. After that we have also attached an image that comprises phase 2 syllabus topics for various posts.
English Language
Reading Comprehension
Cloze Test
Fillers
Sentence Errors
Vocabulary based questions
Sentence Improvement
Jumbled Paragraph
Word Usage
Phrase/Connectors
Paragraph related question (Para connectors, para completion, para restatement, paragraph inference, para fillers)
Reasoning Ability
Puzzles
Seating Arrangements
Direction Sense
Blood Relation
Syllogism
Order and Ranking
Coding-Decoding
Machine Input-Output
Inequalities
Alpha-Numeric-Symbol Series
Data Sufficiency
Logical Reasoning (Passage Inference, Statement and Assumption, Statement & Conclusion, Argument and Cause & Effect)
Numerical Aptitude
Data Interpretation (Bar Graph, Line Chart, Tabular, Caselet, Radar/Web, Pie Chart)
Inequalities (Quadratic Equations)
Number Series
Approximation and Simplification
Data Sufficiency
Miscellaneous Arithmetic Problems (HCF and LCM, Profit and Loss,
SI & CI,
Problem on Ages,
Work and Time,
Speed Distance and Time,
Probability,
Mensuration,
Permutation and Combination,
Average,
Ratio and Proportion,
Partnership,
Problems on Boats and Stream,
Problems on Trains,
Mixture and Allegation,
Pipes and Cisterns).
Please go through the below image carefully. Aspirants can see the same mentioned in the advertisement pdf for both phase 1, phase 2 examinations. The image attached below includes important topics under FCI Assistant Grade 3 Syllabus 2019.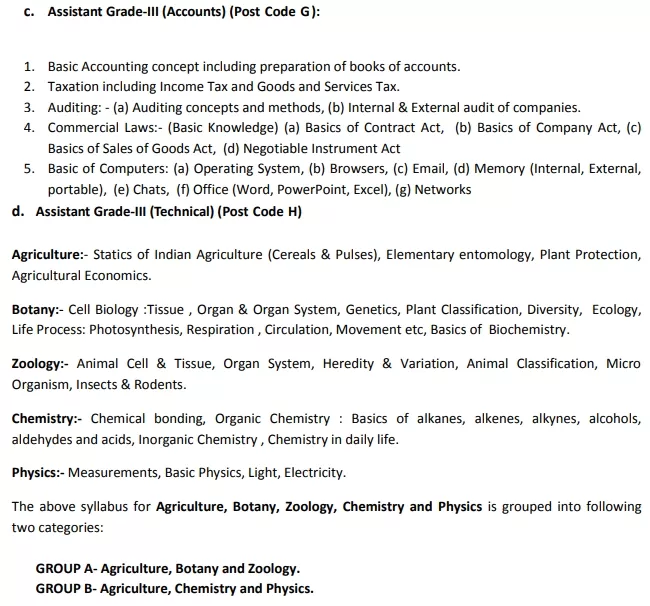 Important Links
Please refer each minute detail mentioned above regarding Phase 1 as well as Phase 2 tests. Enter all your questions and queries about FCI Assistant Grade 3 Syllabus and Exam Pattern in the comment section below. Our team will be happy to respond on the same as soon as possible. Please also stay connected to this page as well as the official FCI website @ fci.gov.in. Do not forget to bookmark the page so none of the important notifications are missed. Share the article with other similar candidates too.
For more Government Job Opportunities in India go to our website @ govtjobindia.com. You can find many options as per different educational qualifications, sectors, and locations as well. Best of Luck!!!