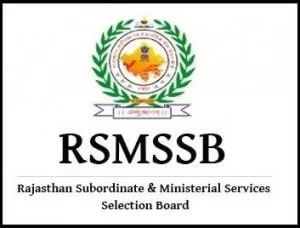 RSMSSB Rajasthan Stenographer Admit Card 2018: Rajasthan State Selection Board has declared that they will put the RSMSSB Rajasthan Stenographer Admit Card on the Official website of the RSMSSB.
All candidates who have already applied for the RSMSSB Stenographer Exam can download the Rajasthan Stenographer Admit Card from this page as soon as it is published on the official website of RSMSSB which is rsmssb.rajasthan.gov.in.
Links for RSMSSB Stenographer Admit Card Download will be provided on this page and candidates who have applied for the RSMSSB Stenographer exam are requested to kindly use them for their RSMSSB Stenographer Admit Card 2018.
Are you tired of going through website after website in search of the RSMSSB Stenographer Hall Ticket 2018? Worry no more as you are finally on the right page. We have provided all the information you will need about the RSMSSB Stenographer call letter 2018. Moreover, we have also provided direct links to download RSMSSB Steno Hall ticket 2018.
So make sure you check this page from time to time for the official Rajasthan Stenographer Call Letter/ Hall ticket Download link. Also provided below are some basic information regarding the Rajasthan Stenographer Exam Pattern and the RSMSSB Rajasthan Steno Exam Schedule.
Kindly have a glance at it. Also, do not forget to visit the Official GovtJobIndia RSMSSB Steno Recruitment Notification 2018 page for detailed information regarding Rajasthan Subordinate and Ministerial Services Selection Board Stenographer Recruitment.
www.RSMSSB.edu RSMSSB Rajasthan Stenographer 2018 Exam Pattern | RSMSSB Rajasthan Stenographer Exam Paper Pattern
The detailed information for the RSMSSB Stenographer Exam Pattern has been provided here as per the Rajasthan Subordinate and Ministerial Service Selection Board.
We would advise all candidates that they go through the table provided below as it contains important information regarding the Stenographer Exam Subjects, Rajasthan Stenographer Total Marks, RSMSSB Stenographer marks weightage etc.
Kindly go through it once before you begin your preparation for the RSMSSB Rajasthan Stenographer Exam 2018 as it will help you greatly.
Rajasthan Stenographer Vacancy Details 2018 – RSMSSB Steno Online Application Form

Recruitment Agency
RSMSSB
Open Vacancies
1085 jobs
Location/State
Rajasthan
Job Category
Steno Govt Jobs
Application Start Date
12th July 2018
Application Last Date
10th August 2018
Application Mode
Online
Official Website
rsmssb.rajasthan.gov.in
For further information regarding Rajasthan Stenographer Recruitment, we would like to direct you towards our RSMSSB Stenographer Recruitment page.
Selection procedure of the RSMSSB Stenographer Exam
The selection process of the RSMSSB Steno will include a Main Written Test and a personal Interview. Candidates will be adjudged based on their cumulative performance in both these tests.
Rajasthan Stenographer 2018 Exam Pattern:
We have given the exam pattern according to the last years' portion. Mostly the portion and paper pattern will be the same. The entire Exam Pattern can be viewed in great detail on our dedicated RSMSSB Stenographer Exam Syllabus page.
Kindly find the link below. We urge that you check the RSMSSB Stenographer Exam Syllabus 2018 page as it contains important information regarding the selection process, Exam Schedule and Exam Pattern for the Raj Stenographer exam.
RSMSSB Rajasthan Stenographer Exam Date |राजस्थान आशुलिपिक प्रवेश परीक्षा तिथि
The RSMSSB Rajasthan has decided that they will conduct the official Raj Stenographer Exam in September – October of 2018. Should there be any further updates in this date then we will update it on this page immediately.
Kindly note that as of now Raj Stenographer exam date seems to be fixed during September – October 2018 and it doesn't seem like it will change. However, do keep in touch with us as we will provide updated information on the earliest.
RSMSSB Rajasthan Stenographer Exam Date – September – October 2018
Important Documents for RSMSSB Rajasthan Stenographer Entrance Exam 2018
The most important document for the RSMSSB Rajasthan Stenographer Exam is the RSMSSB Rajasthan Stenographer exam hall ticket. Without the RSMSSB Stenographer Call Letter candidates will not be allowed to attend their Stenographer exam.
So don't forget to carry your Raj Steno Exam Admit card no matter what. Along with the RSMSSB Stenographer Call Letter candidates are also required to carry along with them a valid proof of identity. The identity Proof is necessary in order to ensure that the Raj Stenographer applicant is genuine.
So please carry your valid identification proof for the RSMSSB Rajasthan Stenographer Exam. You can carry one of the following documents.
College ID
Voter Card
Aadhar Card
Bank Passbook
Passport
Driving License
Ration Card
PAN Card
Any authorised ID Proof issued by Gazetted Officer
RSMSSB Stenographer Hall ticket 2018 Printed Details
The RSMSSB Rajasthan Stenographer Call letter will contain printed information regarding the candidate's enrollment number, RSMSSB Steno Exam Seat number. RSMSSB Steno Exam venue etc.
Candidates are urged that they pay close attention to details printed on the RSMSSB Rajasthan Steno Hall ticket to ensure there are no spelling mistakes or other errors.
If any errors prevail then do not hesitate to inform the authorities at The RSMSSB. The RSMSSB Steno Exam Hall Ticket is expected to have the following information printed on it.
Name of the Aspirant.
Father's Name.
Date of Birth.
Reporting Time.
Enrollment Number.
Date of Examination.
Instructions to follow during the time of Exam.
Examination Centre Code.
Test Centre.
Gender (Male/Female).
Space for Invigilator's Signature.
Applicant's Photograph.
Space for Candidate's Signature.
How to Download RSMSSB Rajasthan Steno Admit Card / Hall Ticket 2018?

If you are having any trouble in downloading the Rajasthan Steno Admit card for the RSMSSB Stenographer exam then we would like to assist you in this matter.The Rajasthan Stenographer Hall ticket/Admit card 2018 Download process is very simple.
If you want to download the Rajasthan Steno Exam Hall ticket then simply follow the steps we have enlisted below. If you have any other queries then kindly forward them to us in the comment section below.
Rajasthan Stenographer Admit Card / Call Letter download Procedure
Visit the official portal of RSMSSB, i.e. rsmssb.rajasthan.gov.in
Find the relevant link for Rajasthan Steno Admit Card download on the home page.
Enter your Enrollment Number and Date of Birth at the time of Login.
Verify the data you filled and click the Submit Button.
This will lead you to a new page displaying the Rajasthan Steno 2018 Hall Ticket.
Take a print out of RSMSSB Rajasthan Stenographer 2018 Hall Ticket and preserve it for further use.
Note:-Admit Card will released 10-15 Days before examination.
⇒

Download RSMSSB Stenographer Admit Card / Hall Ticket 2018 ⇒Click Here
The Link provided above will lead you to the official RSMSSB Stenographer Call Letter Download page
We hope that all the information provided here regarding the Rajasthan Stenographer Admit Card2018 has been of help to you. We personally wish you all the best for you RSMSSB Rajasthan Stenographer exam and hope for the very best of success for you in your career.
If you found the information provided here to your liking then support us by sharing this article with your friends or other individuals who are also applying for Rajasthan RSMSSB Stenographer Recruitment 2018. Also, Subscribe to our website and bookmark us on your favorite website for the latest details regarding government jobs from all over the country.