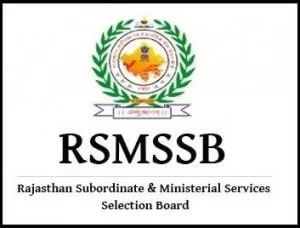 Rajasthan RSMSSB Steno Syllabus 2018 – The Raj SMSSB Exam syllabus is given here in great detail. Aspirants will find the RSMSSB Syllabus and subjects to cover along with RSMSSB Stenographer Exam Pattern 2018 here.
The Rajasthan SMB Recruitment notification is something which is considered very prized and special and people are trying very hard to get into the organization. But here at govtjobindia.com, we are here to give you the edge over other people and guide you exactly how you need to study for the RSMSSB exam 2018.
The Raj SMSSB Exam syllabus is given here in great detail. Aspirants will find the RSMSSB Joint Exam Syllabus and subjects to cover along with RSMSSB Stenographer Exam Pattern 2018 here.
You can either refer to this article given or download the PDF for each of the RSMSSB Steno subjects. You can also refer to RSMSSB 2018 Steno Exam Syllabus pdf which will guide you if you want to prepare for the exam in depth. The study material is given for the RSMSSB Stenographer Syllabus 2018.
You can find the detailed account on the official website www.rsmssb.rajsthan.gov.in. We have also given the RSMSSB Government jobs previous year's papers and revision tests for practice and thorough review.
About the RSMSSB Stenographer 2018 Recruitment notification:
The recruitment notification which came out a few days ago has been posted on our site. You can check it out by clicking on the link given below. The basic details of the eligibility, salary scale, selection procedure, application fee, form and procedure are given on the link. Check it out for more details.
CHECK HERE RSMSSB Steno RECRUITMENT NOTIFICATION
Selection procedure of the RSMSSB Steno 2018 recruitment
The selection process for the RSMSSB Stenographer recruitment is given below. In the later parts of the article, we have elaborated on each and every part of the 2 parts given below.
Written Test
Efficiency Test/Interview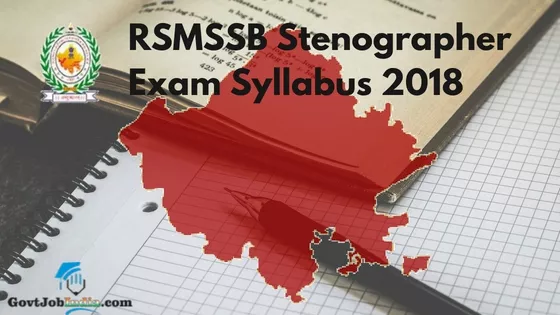 Rajasthan RSMSSB Stenographer 2018 Written Test Exam Pattern:
Exam Type
Parts
Name of the Subjects
Total Marks
Exam Duration
Phase I
Objective Type
Part 1
General Knowledge
100
3 Hours
Everyday Science
Part 2
General Hindi
100
3 Hours
General English
Phase II
Typing Test
Part 1
English Typing Test (Shorthand)
100
10
Computer Typing Test in English
60
Part 2
Hindi Typing Test (Shorthand)
100
10
Computer Typing Test in Hindi
70
The exam contains 2 parts.
Objective Questions are there in Phase I
Phase II has a typing test.
There is negative marking.
All the questions carry equal marks.
Rajasthan Subordinate Ministerial Service Selection Board Steno Syllabus 2018
Aspiring individuals must check the RSMSSB Stenographer 2018 Syllabus to get the names of subjects involved in the written exam. View RSMSSB Exam Syllabus 2018 here and prepare for the test.
आरएसएमएसएसबी आशुलिपिक पाठ्यक्रम 2018 – General Knowledge
कृषक एवं जनजाति आंदोलन, प्रजामण्डल आंदोलन
राजस्थानी भाषा एवं साहित्य की प्रमुख कृतियाँ, क्षेत्रीय बोलियाँ
प्राकृतिक वनस्पति
पशुधन
महत्वपूर्ण ऐतिहासिक पर्यटन स्थल
राजस्थान के इतिहास के प्रमुख स्रोत
मरुस्थलीकरण
कृषि- जलवायु प्रदेश एवं प्रमुख फसलें
राजस्थान की प्रमुख चित्रकलाएं, शैलियां एवं हस्तशिल्प
राजस्थान की प्रमुख चित्रकलाएं, शैलियां एवं हस्तशिल्प
मुख्य भौतिक विभाग- मरुस्थलीय प्रदेश, अरावली पर्वतीय प्रदेश, मैदानी प्रदेश, पठारी प्रदेश
स्थापत्य कला की प्रमुख विशेषताएं
मेले, त्यौहार, लोक संगीत, लोक नृत्य, वाद्य यंत्र एवं आभूषण
स्थिति एवं विस्तार
राजस्थानी संस्कृति, विरासत एवं परम्परा
बहुउद्देशीय परियोजनाएं
राजस्थानी संस्कृति, विरासत एवं परम्परा
महत्वपूर्ण ऐतिहासिक पर्यटन स्थल
राजस्थान का एकीकरण
पर्यावरणीय एवं पारिस्थितिकीय मुद्दे
राजस्थान की प्रमुख प्रागैतिहासिक सभ्यताएं
राजस्थान के धार्मिक आंदोलन एवं लोक देवी देवतायें
कृषक एवं जनजाति आंदोलन, प्रजामण्डल आंदोलन
वन एवं वन्य जीव संरक्षण
राजस्थान की रियासतें एवं ब्रिटिश संधियां, 1857 का जन-आंदोलन
अपवाह तंत्र
खनिज सम्पदाएँ
जलवायु
सिंचाई परियोजनाएं
जल संरक्षण
मुग़ल-राजपूत सम्बन्ध
राजस्थान के प्रमुख राजवंश एवं उनकी उपलब्धियां
राजस्थान का एकीकरण
परिवहन
मृदा
राजस्थान के धार्मिक आंदोलन एवं लोक देवी देवतायें
RSMSSB Exam Syllabus 2018 – Hindi
Please note that the Hindi Portion for the RSMSSB is given below. If you have any doubts related to this, make sure to comment down below and we will let you know as soon as possible.
Comprehension passage
Vocabulary
Grammar
Synonyms
Fill in the blanks
Idioms and Phrases
One word substitutions
Antonyms
Muhavare
Samas
Sandhi
www.rsmssb.rajasthan.gov.in Syllabus 2018 – Everyday Science
Everyday science as a subject may not be that tough for you, but it plays an important part in the RSMSSB Recruitment. So, make sure to prepare for it thoroughly.
Reflection of light and its laws
Elements, compounds and mixtures
Physical and chemical changes
Electric potential
Metals and non-metals
Bio-mass
Acid, base and salts
Human brain
Bleaching powder
Ohm's law
Baking soda
Chromosomes
Human disease – Causes and Cures
Plaster of Paris
Soaps and detergents
The economic importance of animals and plants
Types of lenses
Human eye
Heating effect of electric current
Electric motor
Ecosystem
Hormones
Electric current
Sources of energy
Mendel's law of inheritance
Rajasthan Stenographer Exam Syllabus 2018 – General English
The English language plays a very important role in the selection of the person for this post. Make sure to study all these subjects mentioned below in depth.
Use of Articles and Determiners
Glossary of official, Technical terms (with their Hindi version)
Tense/sequence of Tenses
Translation of Ordinary/Common English sentences into Hindi and vice-versa
Use of Prepositions
Comprehension of a given passage
Voice: Active and Passive
Synonyms and Antonyms
Narration: Direct and Indirect
Letter writing: Official, Demi-official, Circulars and Notices
<—- RSMSSB Stenographer Admit Card 2018 —->
RSMSSB Steno Preparation Tips @ www.rsmssb.rajasthan.gov.in
RSMSSB Rajasthan Stenographer Preparation Steps
are given here for your use. Raj SMSSB Stenographer Preparation Tricks gives the simple ways to get maximum score in the exam.
Make sure to familiarize yourself with the RSMSSB Stenographer Syllabus 2018 & rsmssb.rajasthan.gov.in Steno Paper Pattern 2018.
According to the weightage of concept, allot the subject's importance.
Prepare an effective arrangement with the specified syllabus.
Revise the subjects carefully and daily till you are thorough with them.
Practice RSMSSB Question Papers thoroughly which will soon be upon our site.
Rajasthan RSMSSB Steno Exam Syllabus 2018
Hope you liked this article about the RSMSSB Written Exam pattern and syllabus. If you have any doubts related to the syllabus, leave it in the comments section below. We will get back to you as soon as possible.
Furthermore, make sure to share this article with all those who are also preparing for the Rajasthan SMSSB exam 2018. You will also find the admit card details here on our site along with the recruitment and other particulars. Make sure to check them out as well.